Manitoba and Canada reach agreement on mineral rights
Source: Mytoba.ca
Written by: Kevin Klein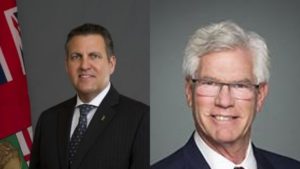 Resolution of outstanding settlement significant to economic development, preservation of natural resources in Manitoba.
The government of Manitoba today announced it has reached an agreement to transfer the administration of Soldier Settlement Board mineral rights to Manitoba from Canada, Enterprise and Trade Minister Cliff Cullen announced today, noting the agreement includes the transfer of approximately $13 million to the province for accumulated federal revenues from resource development on these Manitoba lands.
"We are proud to work with the government of Canada on the resolution of this outstanding settlement," said Cullen. "The restoration of these subsurface mineral rights is significant to our government's pursuit of economic development and the preservation of natural resources in our province.  Mineral resource development is a key aspect of unlocking the potential of our northern regions, which the Manitoba government is pursuing in consultation with affected communities and stakeholder groups."
The Soldier Settlement Board is an initiative through which the government of Canada purchased land in various provinces to sell to First World War veterans, while reserving the mineral rights beneath the land surface for the federal government.  Since that time, the federal government has leased some of these mineral rights for the production of oil and gas and collected royalties, rentals, and bonuses associated with these leases.
When the Natural Resource Transfer Agreement transferred natural resources to Manitoba in 1930, federal revenues acquired by the Soldier Settlement Board through the operation of this program were not transferred to the province.  This agreement resolves this long outstanding issue and ensures that Manitoba has jurisdiction over mineral resources within the province.  The provinces of Saskatchewan and Alberta have also previously received settlements from the government of Canada.
Prior to finalizing the agreement, Natural Resources Canada and the government of Manitoba jointly notified affected First Nations groups.  Following consultation, and in collaboration with the Department of Justice and Indigenous and Northern Affairs Canada, it was determined Canada's duty to consult had been fulfilled and the agreement could be signed.
"This agreement demonstrates fairness and respect as integral components in building strong working relationships with our provincial and territorial partners," said Federal Natural Resources Minister Jim Carr. "Through our constructive interactions with the province, we were able to resolve what had been a long-standing issue."