Nopiming Provincial Park is no place for mining, says Wilderness Committee
Source: CBC News Manitoba
Photo: Eric Reder, the Wilderness Committee's Manitoba campaign director, wants the Manitoba government to protect Nopiming Provincial Park from mining activity. (CBC)
Wilderness Committee wants Manitoba government not to allow mining activity in park
Environmental activists are urging the Manitoba government to protect Nopiming Provincial Park from any mining activity.
A group of protesters rallied on the northwest corner of Kenaston Boulevard and Sterling Lyon Parkway late Wednesday afternoon to demand action on the park, located in eastern Manitoba near the Ontario border.
The Wilderness Committee's Manitoba field office organized the rally in response to a draft management plan for Nopiming, which the group says fails to protect the park from mining activity.
The rally took place near the site where the province hosted an open house on a draft plan.
"It's really shocking for most people to understand that only 19 per cent of Nopiming is protected, and 62 per cent of the park is open for mining activity, and so changing that so that the park is actually protected is something the government can do," said Eric Reder, the group's Manitoba campaign director.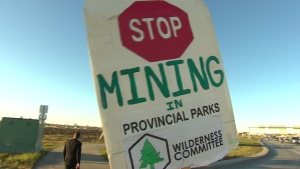 The Wilderness Committee says while the draft plan proposes expanding protected areas in the park, safeguarding moose and woodland caribou populations and better protecting rivers, it does not stop mineral exploration in the area.
"We feel that the government understands that mining in parks is wrong, but they're feeling pressure to try and find any opportunity for some economic development," Reder said.
"But [at] the end of the day, we don't have economic development happening. What we have is mineral exploration companies coming in, bulldozing the park, heading back to whatever province they're from, and nothing ever comes out of it except we've left a scar on our park for generations."
Reder said the province should also ban military exercises from being held within the park.
Exercises that have taken place in the park's southern region have left the area filled with "the mess of military activity," according to the group's website.
The province is accepting public comments on the draft plan for Nopiming Provincial Park until Nov. 30. The plan is posted on Manitoba Conservation's website and submissions can be sent online, by mail or by fax.